Speeding Up DBS Checks
Due to current measures that have been put in place as a result of the coronavirus outbreak, the government are aware that organisations are having difficulty following the DBS ID checking guidance.
To ensure that necessary DBS checks can still be carried out, the DBS standard and enhanced ID checking guidance have been changed for a temporary period.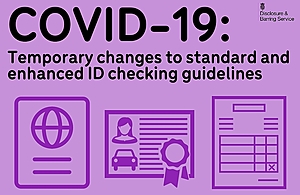 The change will enable:
ID documents to be viewed over video link
scanned images to be used in advance of the DBS check being submitted
The applicant will be required to present the original versions of these documents when they first attend their employment or volunteering role.
The change will come into effect from 19th March 2020.
BVA are taking the necessary steps to support this revised form of DBS process and we will update all of our information as soon as we are ready to go. DBS themselves are also putting on extra staff so as to process applications more quickly than ever before.